You can purchase caddy liners online from the caddy liner shop website or you can buy them from local retailers and supermarkets. Please ensure that they display the seedling logo to ensure that they're compostable...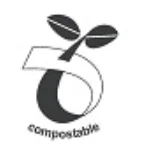 Depending on where you live in Shropshire, you'll receive either a garden waste collection or a combined garden waste and food waste collection. The map below shows areas covered by each service:
The reason for the different service is because currently there isn't enough treatment capacity of the type required to treat food waste from every Shropshire household. Legislation requires a more industrial type of composting if food waste collected by councils is included. We continue to work with our partner, Veolia, to increase treatment capacity, and we hope to provide a uniform service across the county as soon as we can. We'll advise all households when we can provide this service.
For tips to reduce your food waste and how to claim a discounted compost bin take a look at our reduce, reuse, recycle pages.
If you live in an area that receives a food waste collection and you haven't got a food waste caddy please call 0345 6789007 or email customerfirst@shropshire.gov.uk